Emulator Issues #11457
Chao pick up from Tiny Chao Garden to Sonic Adventure 2: Battle
Relates to maintainability
:
No
---
Description
Game Name?
Sonic Adventure 2: Battle
Game ID? (right click the game in the game list, properties, info tab)
GSNE8P
MD5 Hash? (right click the game in the game list, properties, info tab, MD5 Hash: Compute)
9ef5fadf4b8756af820df997468a5a16
What's the problem? Describe what went wrong.
Chao and items in the Tiny Chao Garden, running in Visual Boy Advance M while connected to Dolphin via an emulated link, cannot be picked up using the Chao Transporter inside SA2:B's Chao Gardens. Although the link to VBA-M is registered with a Game Boy Advance icon in the controller socket line on the menu, none of the items in the TCG will show here as they should. Chao drop off does work, however.
What steps will reproduce the problem?
VBA-M (W64 v2.1.0) steps¶
Emulation > Pause when inactive [N]
Options > Link > Type > GameCube [Y]
------------------> Start Network Link... > Client [Y], Server[field]: localhost
------------------> Link at boot [Y]
------------------> Speed hack [Y]
------------------> Configure... > [some recommend 5 milliseconds, default = 1]
-----------> Game Boy Advance > Configure... > Boot ROM [set path to GBA BIOS]
------------------------------> Use BIOS file [Y]

File > Open... a GBA BIOS file.
Dolphin steps¶
Controllers > Port 2 > GBA

Boot SA2:B, enter Chao Garden from Stage Select, go to Chao Transporter. From there one can drop off an existing chao for testing purposes, and then attempt to retrieve it with "Pick up".
Is the issue present in the latest development version? For future reference, please also write down the version number of the latest development version.
5.0-9132 [latest attempted].
Is the issue present in the latest stable version?
Yes, 5.0.
If the issue isn't present in the latest stable version, which is the first broken version? (You can find the first broken version by bisecting. Windows users can use the tool https://forums.dolphin-emu.org/Thread-green-notice-development-thread-unofficial-dolphin-bisection-tool-for-finding-broken-builds and anyone who is building Dolphin on their own can use git bisect.)
[First broken version number here (if applicable)]
If your issue is a graphical issue, please attach screenshots and record a three frame fifolog of the issue if possible. Screenshots showing what it is supposed to look like from either console or older builds of Dolphin will help too. For more information on how to use the fifoplayer, please check here: https://wiki.dolphin-emu.org/index.php?title=FifoPlayer
[Attach any fifologs if possible, write a description of fifologs and screenshots here to assist people unfamiliar with the game.]
What are your PC specifications? (CPU, GPU, Operating System, more)
Intel Core i7-4770, Nvidia GeForce 645, Windows 8.1, 12 GB RAM.
Is there anything else that can help developers narrow down the issue? (e.g. logs, screenshots,
configuration files, savefiles, savestates)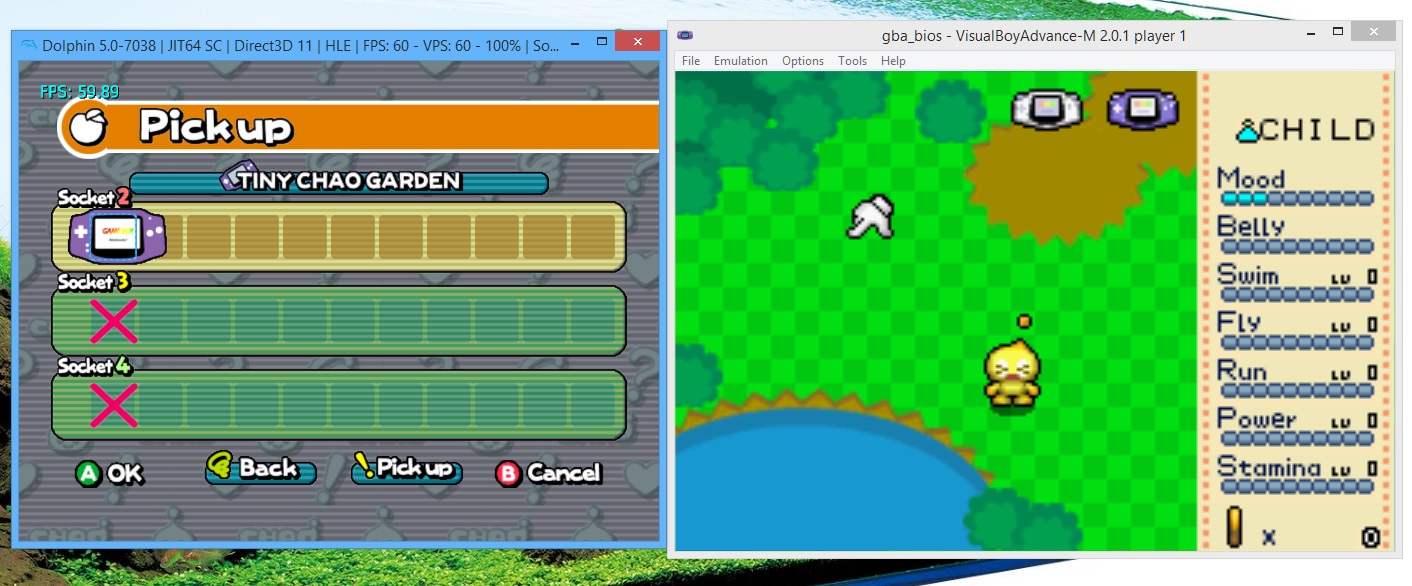 History
Ah yes just found your issue titled "GBA Connectivity Master Issue". It reminds me that I also tried the above with the real DSP ROMs in Dolphin\User\GC and the Config > Audio > DSP LLE Recompiler setting (no difference).
For anyone's reference, chao pick up works from the temporary TCG to SADX, but attempting a pick up from the Sonic Advance TCG to SADX gives similar results to the shot above. Although I'm most concerned with pick up from Sonic Advance, maybe the successful connection between SADX and temp TCG could be a useful lead for some reverse engineering?