Emulator Issues #12795
[Rabbids Go Home, RGWX41] Rabbids turn pitch black after any customization done
Relates to maintainability
:
No
---
Description
Rabbids turn pitch black after any customization done
it's black paint beacuse it can be removed with the eraser tool but after exiting the rabbid turns black back again
Tried latest beta and dev build
https://vimeo.com/663527518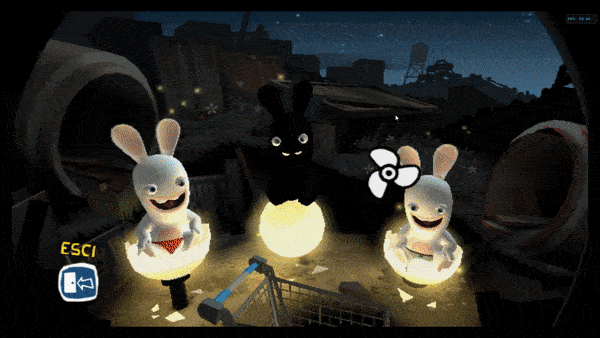 History
I don't have this game, but try disabling 'Store EFB Copies to Texture Only' in Graphics -> Hacks.
Game Name?
Rabbids Go Home
Game ID?
RGWX41
**
MD5 Hash?**
a51cf4fed9ce301745a5d4569744df28
What's the problem? Describe what went wrong.
There is a rabbid editor in the game where you can customize your char with paint and accessory, when any modification gets done on a untouched rabbid, this whill turn pitch black upon exiting the editor, this black color can be removed with the eraser tool in the editor, suggesting all of the rabbit parts (ears head arms body) gets overwritten with the black paint
What steps will reproduce the problem?
Unlock rabbid editor by progressing the game, select save file at menu screen, "inside the wii remote" in the bottom right corner, select a rabbid, apply any modification by spraying anything u want, exit the editor.
Is the issue present in the latest development version? For future reference, please also write down the version number of the latest development version.
Yes. 5.0-15837
Is the issue present in the latest stable version, if not, which is the first broken version?
Did not test 5.0.
What are your PC specifications? (CPU, GPU, Operating System, more)
CPU: Intel Core i7-9750H @ 2.60GHz
Video Card: NVIDIA GeForce GTX 1050
OS: Windows 11 (64-bit)
16 GBs of RAM
Is there anything else that can help developers narrow down the issue? (e.g. logs, screenshots,
configuration files, savefiles, savestates)
save file and save state
https://drive.google.com/file/d/1CexgsoRwQV7uNzflY9MSdGvfTVt2DdUr/view?usp=sharing
https://vimeo.com/663527518